Brewing High Mountain Oolong from Taiwan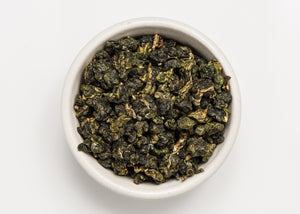 I have a great love for these teas and I hope you will come to love them too! Unlike the world of coffee, tea enthusiasts typically rely on intuition when it comes to brewing their tea. The Chinese have adored tea for centuries and traditional brewing is done with a relaxed yet sharp awareness that engages all the senses in search of the perfect cup.
But don't worry! We all have to start somewhere. Here are my recommendations to get you started brewing Taiwanese High Mountain Oolong teas.
High Mountain Oolong from Taiwan is mostly available in balled form, meaning the leaves are tightly rolled into small, compact balls. It's a lot of fun to watch the leaves unfurl into full tea leaves during your session but keep in mind that brewing these is a bit different if you're used to more delicate teas.
WATER
Begin with high-quality water: Use fresh, filtered or bottled water that's free of impurities. The water you use can significantly impact the taste of your tea. I personally mix half mineral spring water and half filtered water, using water from a nearby spring.
"WESTERN BREWING" 
Everyone has a coffee cup. Simply use one teaspoon (6-7g) of dry leaf for each cup of fresh hot water (195°/90°c) and steep for 4 minutes. Then pour into another cup using a fork as a strainer. Enjoy, and repeat up to three times, or even more.
If you have a coffee press or a nice traditional western teapot you want to enjoy, just double the above - 2 teaspoons to 2 cups of fresh hot water. Share with friends. It's best to pour all the tea out into a pitcher first so the leaves won't continue to brew in the hot water. Good for multiple steepings. [Hack] With practice, you don't have to pour out each infusion, you'll know how much hot water to put back in for just the right tea. 
NOTE: Tea balls and similar brewing methods are not recommended.
"TRADITIONAL BREWING"
Most tea enthusiasts prefer to use traditional Chinese gaiwans (which are simply covered bowls), or "gongfu" teapots. Steeping times are shorter due to the greater ratio of tea to water.
A standard-sized gaiwan holds about 130ml or half a cup of liquid. If you'd like to get a good one, look HERE.  Warm up your gaiwan with hot water first, pour it out, then add 3-6g of dry leaf, depending on how strong you like your tea. Fill your gaiwan covering the leaves with fresh hot water (195°/90°c), pour out the first dose, then add a second round of water - cover your gaiwan and wait for 30 to 45 seconds. Pour everything into a reservoir through a strainer, let it cool to a comfortable drinking temperature, then enjoy. Repeat this process several times, gradually increasing the steeping time by 5-10 seconds for each infusion. You can find a good reservoir HERE,  a good strainer HERE, and some nice cups to share tea with friends HERE.
Traditional teapots serve the same purpose but keep the heat in better. I suggest starting with the same parameters as the gaiwan as a starting point, and then experimenting to see what works best for each tea. The old-school advice is to loosely cover the bottom of your teapot in High Mountain Oolong dry leaf.  If you add too much, you'll be busting at the seems.  You can find suitable teapots at all price ranges HERE.
As I mentioned earlier, brewing tea is best done with awareness and by engaging all the senses. So, go ahead and enjoy the process!
Leave a comment
Comments will be approved before showing up.