Congratulations to Farmer Chang!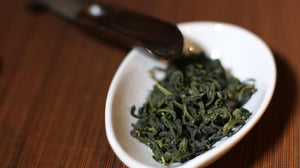 Every year, twice per year, farmers who grow Baozhong Oolong submit their best teas to the Shiding Farmer's Association to determine who has the best teas that season.  Well, the winner of the Winter crop 2018 competition last month is our own Farmer Chang whose tea got the "Tedeng Jiang" or First Place! 
We have been the Westward facing outlet for Farmer Chang's teas for more than seven years now and have always known he is one of the best.  His wife is lovely and a good friend of my Mother-in-Law, in fact that's how we met.  Here are the results... (btw, the winner is listed as "Li Shu-Yun" - That's Farmer Chang's wife haha.)
There are four more pages of entries, but I didn't think you needed to see them all! This competition is a big deal and the winning entries are sold for a very exorbitant amount of money.  He was nice enough to slide me two 150gr boxes of it - one of them will be available for purchase at the bottom of this page!
No. 218 is the winner!
Judges are evaluating all the entries.
Look at all that Baozhong!
The Farmers are using some new fancy packaging this year.  The Chinese says "Tedeng Jiang" or Grand Prize!
No. 218 is the winner!
 You don't have to spend hundreds of dollars to enjoy good tea.  Get Farmer Chang's Winter 2018 Green Oolong (Baozhong) HERE for a very reasonable price!
Farmer Chang's Wall of Fame
Farmer Chang and wife, Mrs. Lee
YOU CAN PURCHASE ONE BOX OF THIS FIRST PLACE COMPETITION WINNING BAOZHONG HERE
Leave a comment
Comments will be approved before showing up.